The Adventures of Pete The Squirrel  BOOK LAUNCH WEEKEND started off on the right foot – er- I mean paw with a FREE e-Book download promotion on Amazon.
Montana and I cruised over to Yucaipa, CA. to visit our wonderful friends at DUTCH BROS COFFEE.
They've been a huge part of The Adventures of Pete The Squirrel journey – all the way through the writing process.
Montana says they have the best puppachino in town— and his nose knows!!! I love their coffee Americano. It's yummy and delicious.
Pete is making new friends across the globe.  Please say hello to Ivan, Pete's first European Adventures of Pete The Squirrel Book Reader!  Ivan lives in Portugal with his mom and dad. He is 7 years old and in 1st grade.
Miles is 4 years old, loves chocolate milk, squirrels are his favorite animal, and lives in California.
Hooray Ivan and Miles!!! Congratulations  & Welcome to the Global Pete Community.
GLOBAL PETE REVIEWS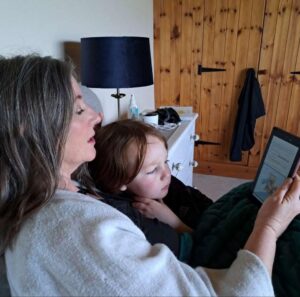 From Ireland:  Grandmother Mia Sera reads the Kindle version to her grandson.
The young reader commented, and I quote,  "I quite like it, actually!"
Sophie Magan-Cussen  in the UK gave Pete a lovely 5 STAR review. She writes:
Reviewed in the United Kingdom 🇬🇧 on April 22, 2023
Brilliantly written, transports you right into the story. Charming and heartwarming. Great lesson for children to see the reaction and how it plays out. In my 4 year olds words "hmm it's good, I like it"
Back in the USA
Lee Ann Myers-Nelson, a former teacher gave PETE another fabulous 5-STAR REVIEW  🙂
Understanding Nature
Reviewed in the United States 🇺🇸 on April 22, 2023
This is a delightfully funny story written by the "master of personification!" As a former elementary school teacher, I highly recommend this book! Every educator of small children should have it in their classrooms and in their school libraries for all to enjoy. I can't wait to see all of our eager, little readers having a great time reading this book out loud and emphasizing all of the funny words written in bold letters!
Lee Ann Myers-Nelson, M.Ed.
Heather K. Bohr wrote: As a mom of 3, this book has all the right ingredients

Reviewed in the United States 🇺🇸 on April 21, 2023
I love this book! It has engaging text, a cute story, and really great illustrations/graphics. My kids loved it!
I'M IN LOVE WITH PETE THE SQUIRREL
Reviewed in the United States 🇺🇸 on April 20, 2023
This book has something every child can relate to. It's sweet and funny, and every character jumps off the pages. Pete has definitely found a new home, and the true measure of a great book is wanting to see what happens next. I have a feeling Pete and Andy are going to have some very exciting adventures together. This book proves that friends come in every possible way, even when you least expect it.
Thank you Everyone who downloaded or purchased THE ADVENTURES OF PETE THE SQUIRREL during Pete's 1st promotion. It was a huge success!
---
---